.
.
There is NO difference between a Mini Retriever and a Mini Golden Retriever. They are the same thing. People just use both names.
!!! Do send us your introduction as asked for on our purchasing process page if you want to receive any additional information from us. THANK YOU !!!
.
1. We have one super tiny female, so very rare, super sweet. She loves to be held. As of 8/20 she is charting to be 15 lbs.! $4,500. See her in this video: https://youtu.be/7iXd_srC-rU https://youtu.be/CaECCSsWC7Q polly's
.
2. Females: (Do-Ba x Teeny Tony)
.
.
3. Peggy 28 lbs. and Teeny Tony 24 lbs have a litter that is ready to go now!
.
.
The puppies listed below aren't quite ready to leave us, but you can get on a reservation list to reserve one !
.
.
5.
Basil is the proud father, our beautiful and calm girl Star (got her name because she starred in a video commercial for pet food). Males and females. See the males in this video:
https://youtu.be/8HlBg0kCj0g
Go home date of October 5th.
MALES: a. largest male $800 b. Orange collar $1,800 c. Dark blue collar $1,600 d. light blue collar $2,200 e. green with paw prints collar $2,200
FEMALES: f. largest female $2,000 g. smallest female, speckle nose $2,600 h. red collar $2,500 i. darker, no collar: $2,500 (video coming of the females)
.
6.
Cody has sired his first litter with MoMo. Cody is 33 lbs. and MoMo is 30 lbs. We have some gorgeous light colored straighter or straight haired doodle pups - males and females, creams to light golds.
https://youtu.be/CQkVxaprG4g
(Go home date of October 14th.) The three males are $1,000 each and the smallest female is on hold, the larger of the two females is $1,300.
This litter also produced some "out of standard" colors that are 'retriever coated'. They are not supposed to be these colors, we don't try to produce for "off" colored pups. (some people do and charge more because they are so "rare" and NOT typical.) They are gorgeous and sweet, just don't have that traditional gold/cream/red coloring. Physique and hair type will be just like our other "golden" colored Mini Retrievers. See them in this video:
https://youtu.be/SmhYbhCIhWk
Black male pups are $1,200 Blue merle female is $1,400 and Silver merle female is $1,600.
.
.
.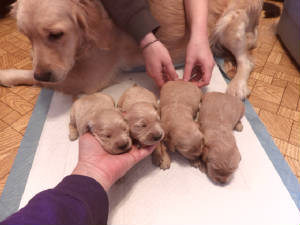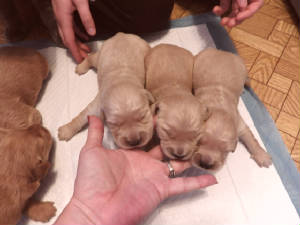 .
Find us on Facebook at "Regal Kennel"
.
Prices are subject to change without notice.
All monies paid to seller/breeder are NON-REFUNDABLE unless dictated by MN State Law.
.
MN State License #411422